Fintech and marshmallows? – team dynamics workshop
How did artificial intelligence end up on a table with spaghetti, marshmallows and newspaper?
The two-week summer university of ELTE EIT Digital's two-year master's program is currently taking place and is centered around Fintech. The aim of the intensive program is for students from an international environment to learn how they can forge business success from their knowledge of technology. During the two weeks they visit tech companies with a solid background, listen to presentations about real-life cases from well-known business speakers, and work in groups to build their own startup business. You can read more about the double degree program  HERE.
EIT Digital Master
Summer School
ELTE 2022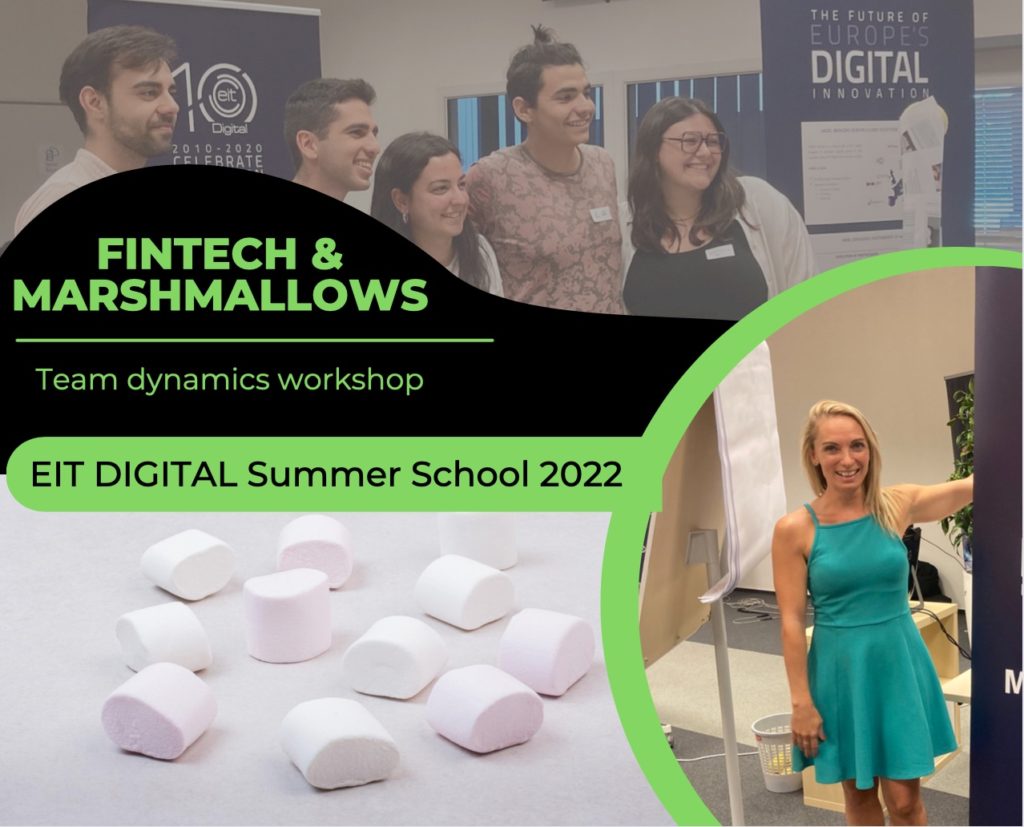 Well, what place is there for marshmallows, spaghetti, or newsprint in such a high-level intellectual workshop full of technical achievements, operating with digital solutions, interspersed with bitcoins and blockchains? The "absolute error" appeared on the faces of the audience when the inappropriate devices appeared on the podium. Then, as they visibly dissolved in a matter of minutes, I was very pleased to spend a fantastic afternoon learning together in the company of the super-enthusiastic computer science students and the ingredients mentioned above.
Breaking away from the cyber world for a few hours, I encouraged the teams that had been cooperating for a week already to tangible, manual team challenge. Aim of the exercise was to see how cooperation works between them, what team cohesion is like and what happens if a sudden change occurs compared to what was planned in advance. It was inspiring to see the huge enthusiasm with which the teams threw themselves into the challenge, where they had to build a tower in phases based on a set of criteria. Simulating a realistic business environment with market variables, economic challenges, personnel changes, and unexpected events.
The work taking place within a playful framework perfectly demonstrated the team dynamics and highlighted the situations that challenged the participants. Biggest challenges were mostly how to adapt to change and how to see its benefits. These perfectly symbolized real life when our sense of security and comfort is violated, we easily become insecure, we suddenly cannot find a way out, we do not see the opportunity in the situation. Bringing in the fixed and growth mindset of American psychologist Carol Dweck, we talked about what leads a person and a team to success in unexpected circumstances. What can be done differently, how can we build from such a situation and use it for our own development.
Is it necessary and, if so, how is it advisable to prepare for unexpected situations, what can be done in the planning phase that supports a successful end result even in a changing environment?
The common challenge confirmed the participants that a flexible attitude is key to progress and that mistakes and failures take us forward, not backwards. Far from artificial intelligence and the digital world, in a completely different way than usual, in a fun environment, the students had the opportunity to taste what makes a team strong and effective, and what we as individuals can add to this.
As Muhammad Ali, the American Olympic and world champion boxer, says, "There is nothing wrong with being sent to the floor in or out of the ring. The trouble starts when you stay there."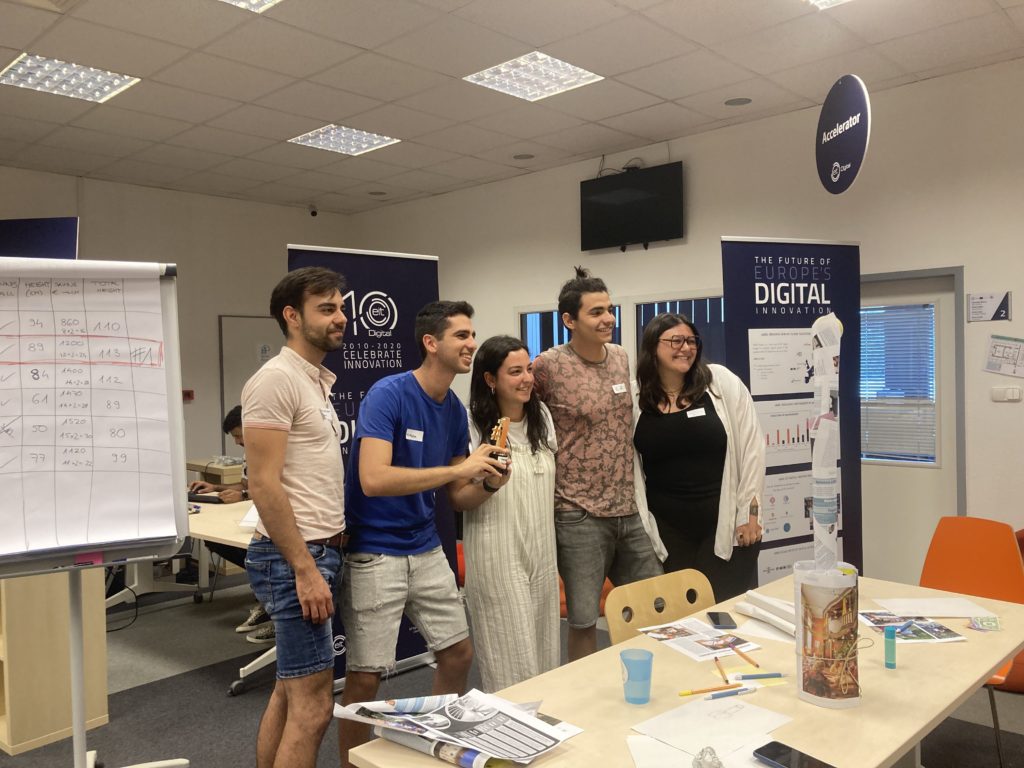 Kata nagyon gyakorlatorientált. A barátja bármilyen eszköz. Anélkül, hogy ő mondta volna el a megoldást, velem mondatta ki a dolgokat. Lehozza a problémát a földre, ezáltal nem megoldhatatlan már, lehet vele dolgozni és Kata tud vele erősíteni. Az eszközök használatával, mint egy "médium" közelebb hozza a helyzetet és ezáltal a megoldást.
Kati
Beszélgetéseinkből Katával egyértelműen érződött, hogy már régóta foglalkozik, kommunikál emberekkel. Benne van a "power". Rádiós, búgó hangját mindig lehet érteni, hogy mit akar mondani. Arányosan, szépen ír. Aki szépen ír, annak a fejében is rend van.
Gábor
mérnök
Felnézek Katára a határozottsága miatt, céltudatos, tudja, mit akar. Azt érzem, hogy megvan vele a biztonság, meg tudok nyílni neki.
Zsuzsi
édesanya és vállalkozó
Mikor Katával beszélgettünk olyan volt, mint egy laza, kötetlen diskurzus, aztán hirtelen kérdez egy olyat, amitől megáll a levegő és ami tényleg nagyon releváns és elgondolkodtató. Megdöbbentő volt számomra, hogy mennyire beleérezte magát a helyzetembe és ráérzett azokra a kritikus/fontos pontokra, amin muszáj volt elgondolkodnom.
Böbe
gyógyszeripari munkatárs
Imádom Kata hírolvasó hangját. Nagyon határozottnak tartom, aki mellett biztonságban érzem magam.
Rebeka
lovas edző
Lépj velem kapcsolatba!
Workshopra jelentkeznél? Esetleg a coaching érdekel? Vagy egyéb kérdésed lenne? Fordulj hozzám bizalommal az alábbi kapcsolati űrlap segítségével!